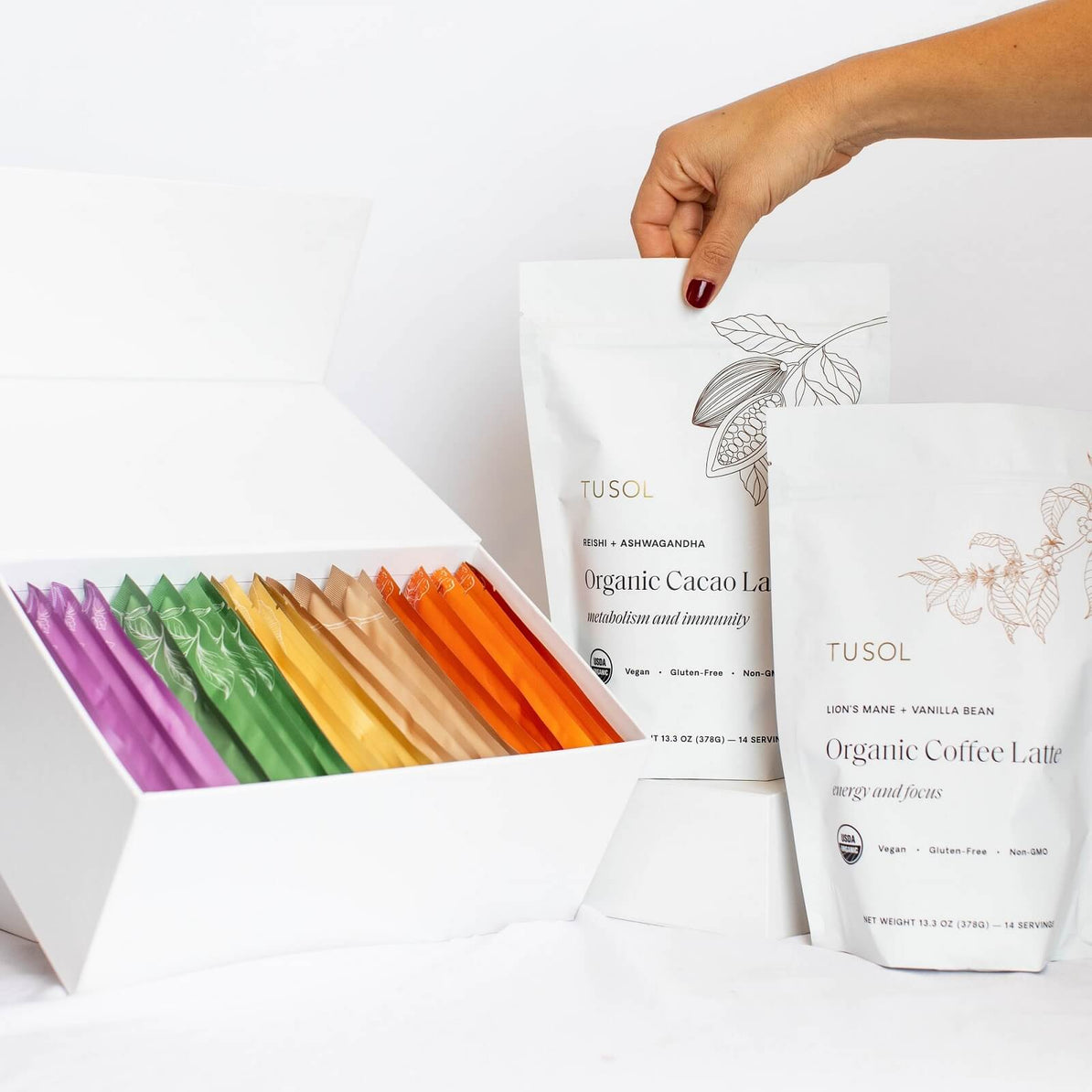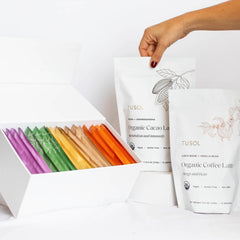 TUSOL Wellness
TUSOL Full Body Reset Kit
Research: Jumpstart your health journey with our TUSOL Full Body Reset Program which includes our best-selling superfood-rich formulas designed to work in synergy to effortlessly optimize your health. Reset your body in one month with vitamins and nutrients proven to support metabolism, gut health and healthy energy.

Our Organic Superfood Smoothies are designed with over 29 superfoods, 16 adaptogens, 20g of plant protein, probiotics and enzymes – and expertly-formulated into 5 delicious flavors to optimize your health deeply on a cellular level.
Organic Cacao Lattes are designed with raw cacao, reishi mushroom and ashwagandha – ingredients proven to reduce oxidative stress, boost immunity and improve mood.
Organic Fair Trade Coffee Lattes are designed with lion's mane mushroom, chaga and coconut milk powder – ingredients proven to improve focus, support metabolism and stimulate collagen.
Each blend is travel friendly and ready to consume in under 1 minute!
Full Body Reset Kit Includes:
1 - Organic Cacao Latte | 14 Servings
1 - Organic Coffee Latte | 14 Servings
1 - Organic Superfood Smoothie Box | 20 Smoothies
Please Note: Rewards cannot be applied to this product
4- Cacao + Lion's Mane Smoothies

for energy

4- Banana + Chaga Smoothies

for focus

4- Maqui Berry + Baobab Smoothies

for healthy weight

4- Turmeric + Ginger Smoothies

for immunity

4- Matcha + Ashwagandha Smoothies

for gut health

Cleanest Ingredients: Organic | Vegan | Gluten-Free | Pre + Probiotics | Enzymes
Fulfilled by our friends at TUSOL Wellness
Please Note: Rewards cannot be applied to this product