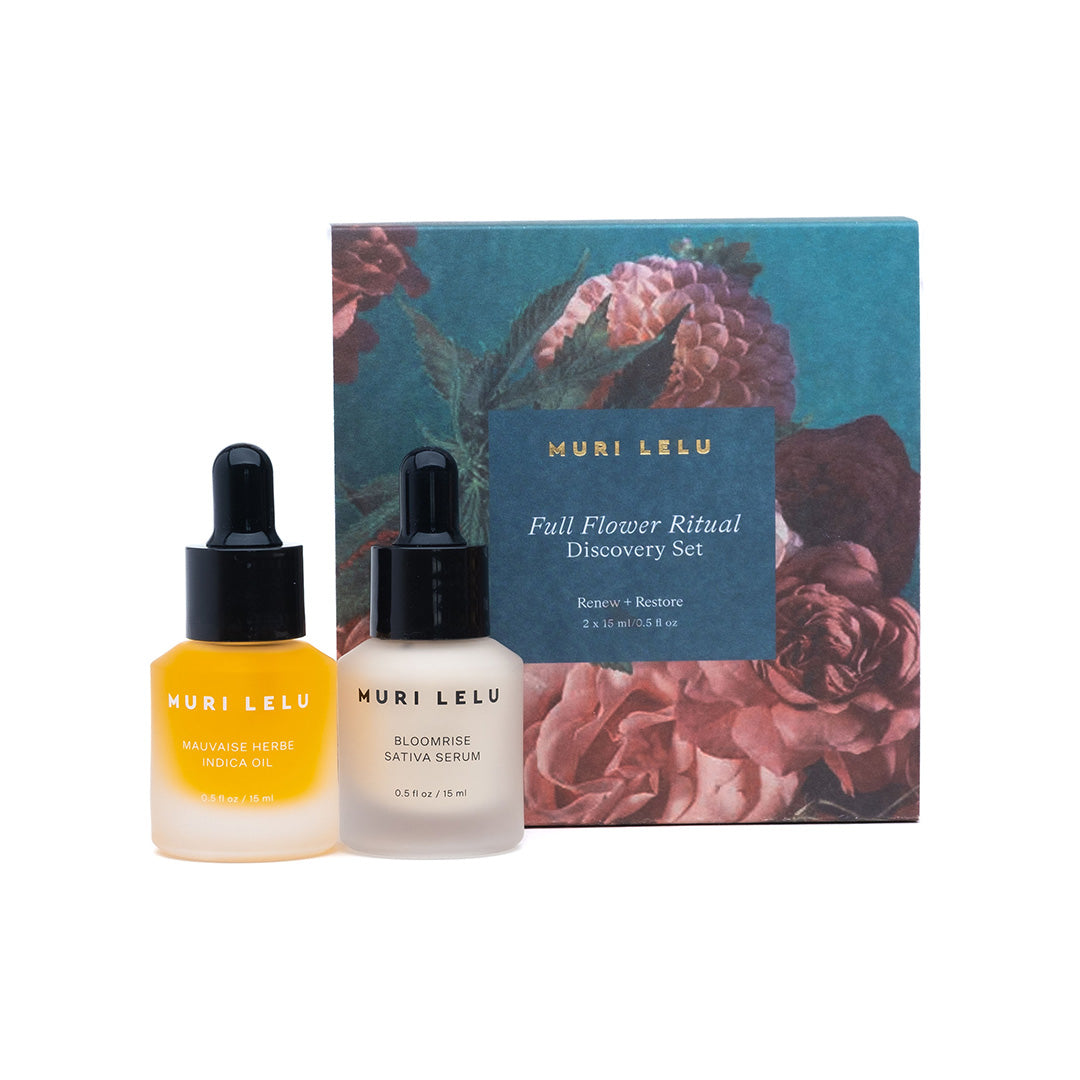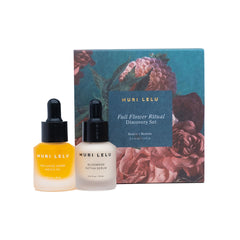 Muri Lelu
Limited Edition: Full Flower Ritual Discovery Set
Luxuriate in our limited-edition Full Flower Ritual Discovery Set, wrapped in a dramatic and lush botanical scene crafted exclusively for Muri Lelu by New York Times featured floral designer Doan Ly.
Set of Two, .5 fl oz each
An inspired indulgence for discerning beauty lovers, these half-sized (15ml) bottles of our cult-favorite Full Flower Ritual duo are the ultimate entry-level experience for all curious about benefits of hemp-powered skincare.
Morning multi-corrective Bloomrise Sativa Serum sets up skin for flawless days, while restorative Mauvaise Herbe Indica Oil restores vitality and natural radiance by night. Both formulations are powered by flower — full flower hemp extract — and packed with naturally nourishing active botanicals and mood-enhancing aromatherapy blends that keep skin hydrated and glowing 24/7.
Clean, pure and profoundly effective.
Key Benefits:
• Addresses skin's specific needs each a.m. and p.m.
• Protects and perfects by day, nourishes and restores by night
• Fortifies the skin barrier against pollution, blue light and environmental damage
• Calms redness and inflammation, while flooding skin with intense hydration
• Helps to reduce fine lines, deep wrinkles and other visible signs of aging
• Boosts natural cell turnover and collagen production for health and youthful radiance
Read More Here: Full Ingredients List & Usage
*Please Note: Rewards cannot be applied to this product