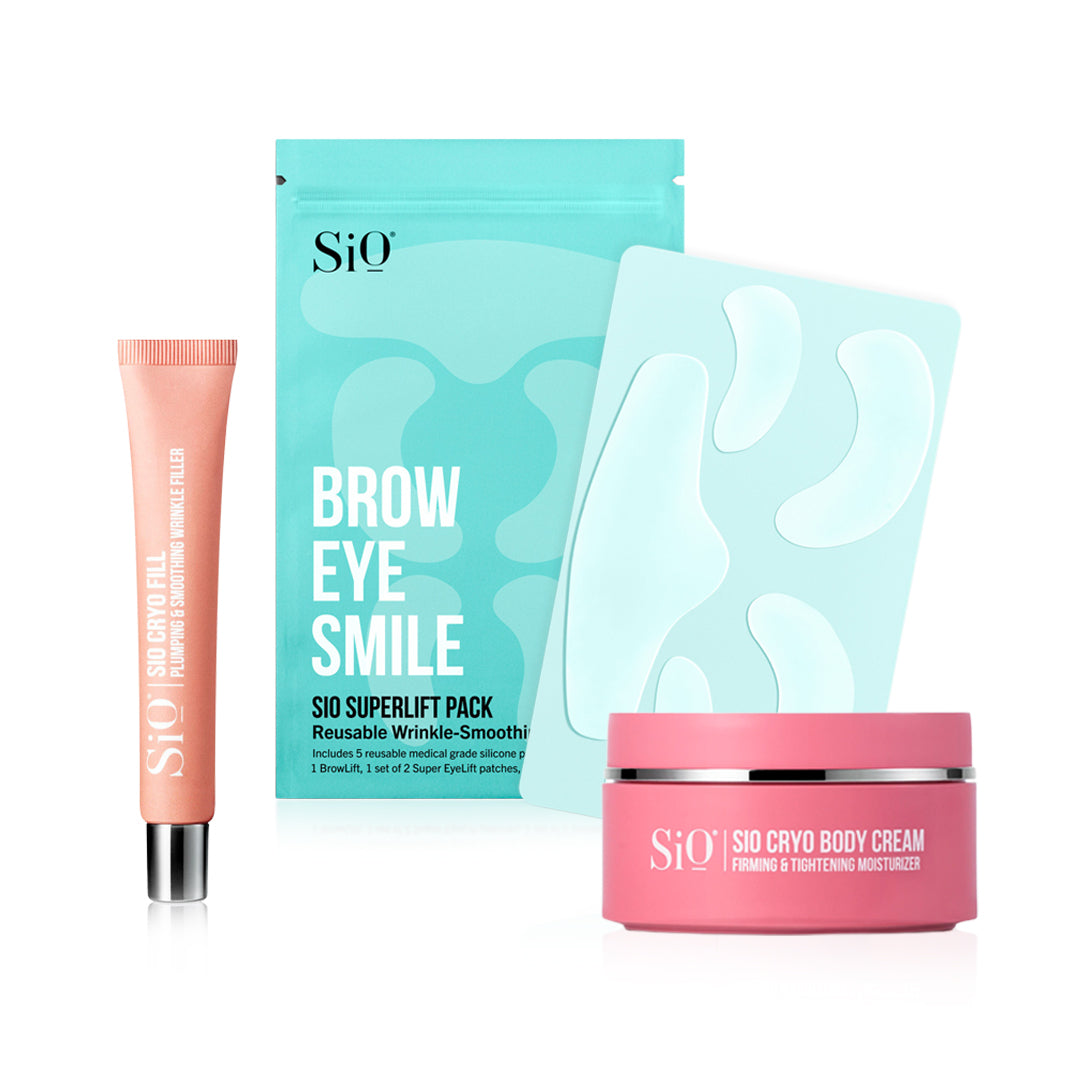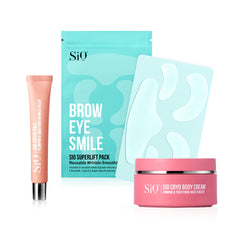 SiO Beauty
Head to Toe Smoothing Collection
The Head to Toe Smoothing Collection includes SiO Beauty's CRYO BODY CREAM, SUPER LIPLIFT, & CRYO FILL
CRYO BODY CREAM
A full-body, multifunctional skin-contouring cream powered with skin-rejuvenating marine plant extract, Corallina Officinalis, visibly tightens and sculpts skin upon application. This firming and toning cream retexturizes the appearance of skin. Perfect for contouring arms, legs, and stomach –while delivering ultra-rich hydration to relieve and plump dehydrated skin.The fast-absorbing formula features SiO's innovative, patent-pending cryo-actives which immediately cool skin on contact. This potent antioxidant blend defends skin's natural moisture supply and feature Camellia Japonica FlowerExtract and Hydrolyzed Collagen for immediate visible skin renewal.Upon application, the often-neglected body skin feels denser, appears visibly firmer with renewed elasticity and luminosity.
SUPERLIFT PACK
This value set includes patches to treat forehead wrinkles, crow's feet and more, so give your whole face the SiO experience. Made of medical grade silicone, SiO's reusable face patches comfortably hug your skin, gently compressing it to stay flat and smooth. The doctor-recommended wrinkle patches intensify hydration and support skin's ability to retain moisture, minimizing the appearance of fine lines and wrinkles. See results in just a few hours! Continue to use the patches to help prevent new wrinkles from forming.
Set of 5

patches: 1

BrowLift

, 1 set of Super

Eye Lift

patches, 1 set of

Smile Lift

patches, all reusable up to 10 times.
CRYO FILL
A targeted plumping and smoothing wrinkle treatment, the SiO CryoFill is formulated as a non-invasive alternative to injectables. The innovative ingredients in this cream work together to lessen the movement of facial expression muscles and helps to "freeze time". This supercharged product reduces the appearance of expression lines to reveal smoother, healthier-looking skin. The formula contains ingredients such as skin-plumping peptides that provide hydration to volume deficient areas, an amino acid blend that revitalizes the look of skin and oat extract that calms and refreshes. Use the SiO CryoFill to revive and rejuvenate the look of dull skin and give yourself a youthful glow. See immediate results and overall improvement with continued use.